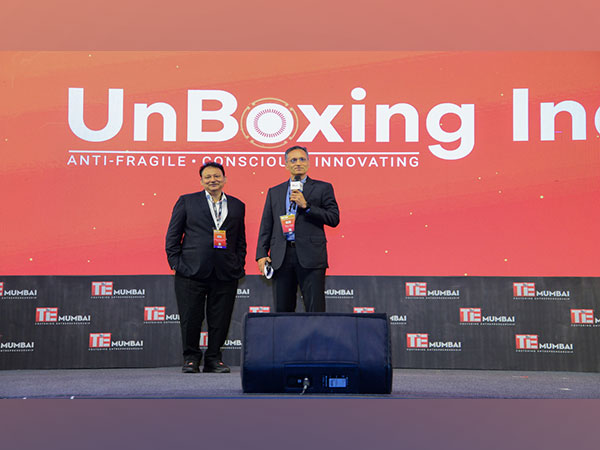 TiEcon Mumbai 2023, brilliantly showcased revolutionary ideas & impactful solutions to build an Anti-Fragile and Sustainable India
Jun 09, 2023
TP
Mumbai (Maharashtra) [India], June 9: The 16th Edition of TiEcon Mumbai, organised by TiE Mumbai at Jio Convention Centre, BKC culminated on an enthusiastic note with a call to build an Anti-Fragile and Sustainable India. It kick-started with marquee speakers focusing on ways to accelerate growth, drive more intelligent engagement, make conscious choices and methods to empower sustainable business building ideas.
Speaking at the summit, Ranu Vohra, President- TiE Mumbai said, "It was great to see the energy of the startup eco system at work at TiECon 2023. There were lively debates on Mumbai's roadmap to becoming the startup hub, Gen AI and its role in India and the opportunities, thus created. The session on funding availability held out promise that as the startups become "anti-fragile" and focus on unit economics and profitability we should see a renewed increase in funding possibilities. The highly anticipated BCG report on the ecosystem was very well received and spoke about the inherent changes including cultural changes required to bring about sustainability in the startup ecosystem. We are overwhelmed by the positive feedback from entrepreneurs (there were 3000+ attendees) and on behalf of the Board and Past TiE Mumbai Presidents want to thank the community which participated wholeheartedly."
Apoorva Sharma, President Elect, TiE Mumbai said, "India is a land of opportunity and hope, a place where dreams can come true. But as the country rapidly urbanizes, it is also becoming a place of transition. Successful Entrepreneurship is a marathon and not a sprint. Startups need to have a customer centric approach, must learn to think differently and leverage Tech - Data & AI for a competitive edge. VCs are looking to invest in founders who are passionate and have a differentiated product/ service with expertise."
India is at a focal point of innovation. The country is all set to reach a $ 5 Trillion economy by 2027. India is rising as the knowledge and talent capital of the world having the 3rd largest ecosystem of climate Tech Organizations. Start Ups are a key driver of this Digital Transformation of India. Generation AI is slated to deliver breakthrough productivity gains and is a paradigm shift in computing creating massive disruption in Digital businesses.


A comprehensive report "Era of resilient Growth?" was also launched by BCG at the summit. Some highlights of the report are stated below -
* Global and Indian macroeconomic and funding environment:
- While overall funding has decreased in past few years, there is some level of recency bias, as funding levels still comparable to 2019/20.
- Importantly funding still at brisk levels in seed/early stages, this coupled with record levels of dry powder imply money available for new startups.
- Specifically, India comparatively doing well, with higher share of APAC investments.
- Importantly, very clear trend towards investors favouring either profitable companies or with clearer path to profitability.
- On India opportunity: With an expected $ 7 Tn economy by 2030, multiple sectors will open up for startups with very sizeable TAM. Identified > 20 segments across B2B and B2C where large opportunities exist for new crop of startups to emerge. Specifically, in B2B with increased focus of enterprises on digitisation of supply chains and distribution, multiple potential opportunities are likely to open up across different models like marketplaces, SaaS, product or IOT companies.
* How to think about building resilient startups in the current environment- 4 ways to think about resilient companies:
- Right strategy to win (Right markets and agility, high degree of customer obsession, M&A as a strategic tool)
- Rhythmic engine (Focus on efficiencies, margins and supply chain)
- Agile Organization and intentional culture
- Managing and raising capital; as also stakeholder management
* Some key macro trends important for Indian startups- specific highlights on Gen AI and Climate and Sustainability
- Gen AI: Significant potential for transformative changes across large parts of value chains of many sectors. Many consumer segments like gaming, video, edtech etc will fundamentally change beyond what we are seeing today. Also, many opportunities will open up on B2B side where there will be competition between incumbents and potentially newer players.
- Climate and Sustainability- remains another opportunity for startups.
* India has taken a net zero target by 2070.
* More than 190 Bn+ of VC funding across the globe with more than 85 unicorns
* While multiple challenges, Indian ecosystem has been developing. India now the 3rd largest ecosystem of Climate Tech Orgs. Major focus across Electric mobility, clean energy transitions, carbon tech and Waste to value.
The conference brought together leaders from business, academia, and civil society to discuss how to build an anti-fragile India. The speakers discussed a range of topics, including ways to build a more resilient economy that can withstand shocks and stresses, means to create a more inclusive society that gives everyone a chance to succeed, how to promote innovation and entrepreneurship and ways protect the environment.
Some key takeaways from the conference were that India has the potential to be an anti-fragile nation. Each one of us has a role to play in building an anti-fragile India. The key to building an anti-fragile India is to focus on resilience, inclusivity, innovation, and environmental protection. The conference had meaningful dialogues around ESG, net zero, green hydrogen etc leading the pathway to tech related startups. It was impressed that by working together, we can build a more resilient, inclusive, innovative, and sustainable India.
TiECon'23 also comprised of 140+ specifically curated startups expo which showcased their products to demonstrate innovation in India. There were power packed panel discussions, insightful workshops, masterclasses on building high and growth products. The Summit provided an important platform for collaboration and engagement. The summit had diverse set of experts, speakers and high level of participation. It was rich in content and valuable in creating the better understanding.
Follow the link to hear Ranu Vohra, speak on TiE Mumbai

The Indus Entrepreneurs (TiE), was founded in 1992 in Silicon Valley by a group of successful entrepreneurs, corporate executives, and senior professionals with roots in the Indus region. Since 1992. TiE has been supporting entrepreneurs by offering education, mentorship, networking and funding opportunities. The mission of TiE is to foster entrepreneurship globally through the 5 pillars of TiE : mentoring, networking and education, funding and incubation. Dedicated to the virtuous cycle of wealth creation and giving back to the community. TiE's focus area is to generate enable the next generation of entrepreneurs. There are currently 11,000 members, including over 2,500 charter members in 60 chapters across 17 countries. TiE's mission is to foster entrepreneurship globally through mentoring, networking, and education. Dedicated to the virtuous cycle of wealth creation and giving back to the community, TiE's focus is on generating and nurturing our next generation of entrepreneurs.
Media Contact
Jacqueline Patel
9967040369


(Disclaimer: The above press release has been provided by TP. ANI will not be responsible in any way for the content of the same)