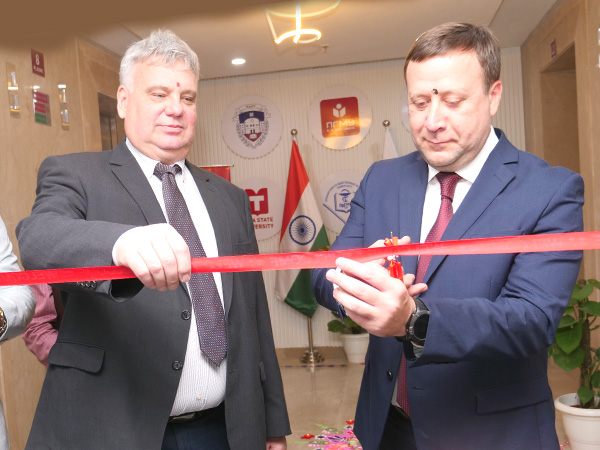 Russian Education Facilitation Center Inaugurated by Pavel Anatolyevich Shevtsov: A One-Stop Solution for Global Students Pursuing Education in Russia
Oct 03, 2023
SRV Media
New Delhi [India], October 3: In a landmark event in India, the Russian Education Facilitation Center was officially inaugurated today by Pavel Anatolyevich Shevtsov, the Deputy Head of the Russian Federal Agency for Humanitarian Cooperation "Rossotrudnichestvo." Accompanying him were the esteemed Director of the Russian House in New Delhi and delegates from various renowned universities of Russia. This state-of-the-art center, located in Noida, India, is poised to become a pivotal resource for students worldwide, offering comprehensive support for those aspiring to study in Russia.
Purpose of the Russian Education Facilitation Center:
The Russian Education Facilitation Center is founded upon the vision of enhancing international educational opportunities and fostering cultural exchange between Russia and the global community. Its primary objectives include:
One-Stop Solution: The center serves as a holistic resource for students from India and across the world who wish to pursue their education in Russia. It provides all the necessary support, guidance, and information under one roof, simplifying the complex process of studying abroad.
Counseling and Guidance: Equipped with counseling rooms staffed by experienced professionals, the center offers personalized guidance to students. Expert counselors assist in making informed decisions about universities, courses, scholarships, and visa procedures.
Conference Facilities: State-of-the-art conference rooms facilitate direct interactions between Russian universities and prospective students. These spaces are instrumental in conducting admission interviews, seminars, and presentations.
 Information Hub: The center houses an extensive repository of information about Russian universities, courses, scholarships, and cultural events. This comprehensive resource ensures that students have access to vital information throughout their academic journey.
Cultural Exchange: Beyond academics, the center promotes cultural exchange through a series of events, workshops, and exhibitions that celebrate the rich cultural heritage of Russia, fostering cross-cultural understanding.
Accessibility for International Students: Committed to making the dream of studying in Russia accessible, the center offers support for visa applications, accommodation arrangements, and other essential services, ensuring a smooth transition into Russian academic life.
Free Services for Russian Universities: As part of its commitment to international education, the Russian Education Facilitation Center provides its services free of charge to Russian universities. This initiative aims to strengthen ties between educational institutions and students from around the world.      


In his inaugural address, Pavel Anatolyevich Shevtsov expressed his enthusiasm for the center's potential to become a global educational hub, uniting students and universities across borders. He emphasized the importance of international education as a bridge to mutual understanding and cooperation.
The Russian Education Facilitation Center is set to play a pivotal role in shaping the academic aspirations of students globally, enabling them to access the world-class educational opportunities that Russia offers.
(ADVERTORIAL DISCLAIMER: The above press release has been provided by SRV Media. ANI will not be responsible in any way for the content of the same)