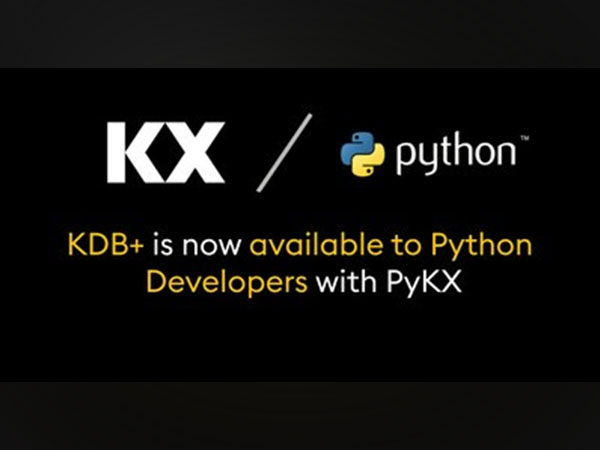 KX brings the power and performance of KDB+ to Python Developers with PyKX
Jun 07, 2023
PRNewswire
New York [US]/ London [UK], June 7: KX, maker of kdb+ the industry's most trusted Data Timehouse™ and
vector database, has launched a new version of PyKX, its Python first interface to kdb+, with a development-only licence. This launch expands the reach of KX technology to the over 10 million strong Python developer community, enabling them to experience the data processing and analytical power of kdb+ and its underlying vector programming language, while remaining in their native Python development environment.
Available initially as an open-source distribution on
(PyPI), PyKX gives developers the ability to use the world's most popular programming language to accelerate data, math, and analytics-intensive applications for real-time insights across all Python workloads. Typical use cases include anomaly detection, predictive maintenance, feature engineering, back-testing, quantitative finance and many more.
It also dramatically streamlines traditional data science workflows by bundling advanced connectivity, vector encodings, built in algorithms and powerful data organisational tools that accelerate complex processing at scale while simplifying data exploration.
Asset Tarabayev, Chief Product Officer at Quantitative Brokers: "We depend on KX as a key part of our time-based data fabric so we're thrilled that, with PyKX, KX is extending kdb+ to support our growing community of data scientists and data engineering, applying advanced analytics to our most innovative applications and use of AI."
Jonny Press, CTO, Data Intellect: "PyKX is a game changer for enterprises looking to put kdb+ alongside Python for developer and data science teams. Many of our clients use the languages in tandem but the question has always been where the boundary lies, which parts of the workload do you do in kdb+ and when do you shift to Python, with PyKX there is no boundary."
Ashok Reddy, CEO of KX: "We're on a mission to democratise access to our market leading technologies. With this release, we're giving Python developers and data professionals the ability to run analytics and AI workloads on the industry's fastest time series and vector database using the world's most popular language and programming environment for data science."


Madhan Arumugam Ramakrishnan, Corporate Vice President Microsoft Cloud for Industry: "With PyKX, KX is helping top financial services customers using Microsoft Cloud, to accelerate services to train, host, and deploy timeseries and vector-based machine learning models, including large language models, with Python. We're thrilled to work with KX to grow the kdb developer ecosystem by contributing a native KX Extension in Visual Studio Code -- the best-in-class IDE for all developers."
To get started and learn how Python interoperates with kdb+, a prebuilt Jupyter project hub has been created giving access to a working Jupyter Notebook pre-loaded with KX software and KX training materials, no installation is required. Users can then download PyKX and use it with an existing kdb+ licence, a free trial, or a kdb+ Insights Personal Edition.
PyKX will be available initially on PyPI, a repository of software for the Python programming language with a global community of nearly 700,000 active users.
Our mission is to accelerate the speed of data and AI-driven business innovation enabling customers to transform into real-time, intelligent enterprises. Built for the most demanding data environments, our Data Timehouse™ platform is trusted by the world's top investment banks and hedge funds, and leading companies in the life and health sciences, semiconductor, telecommunications, and manufacturing industries.
At the heart of our technology is the kdb+ time series and vector database, independently benchmarked as the fastest on the market. It can process and analyze time series, historical and vector data at unmatched speed and scale, empowering developers, data scientists, and data engineers to build high-performance data-driven applications and turbo-charge their favorite analytics tools in the cloud, on-premise, or at the edge.
Ultimately, our technology enables the discovery of richer, actionable insights for faster decision making which drives competitive advantage and transformative growth for our customers. KX operates from more than 15 offices across North America, Europe and Asia Pacific.
For more information visit
or contact:

(Disclaimer: The above press release has been provided by PRNewswire. ANI will not be responsible in any way for the content of the same)