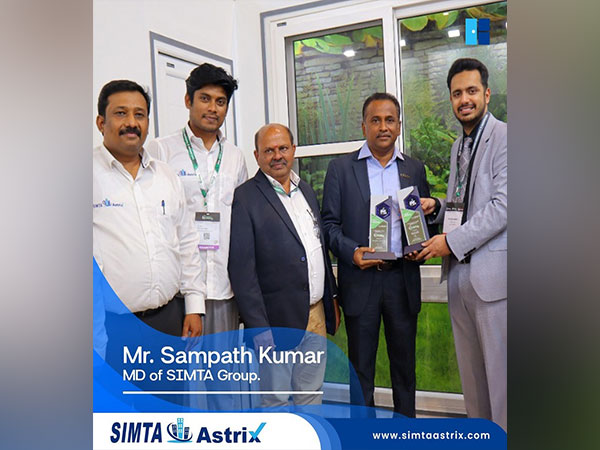 An Eventful Year-End for SIMTA Astrix: Making It Big at the Expo
Jan 13, 2023
Bengaluru (Karnataka) [India], January 13 (ANI/BusinessWire India): SIMTA, with over 3 decades of strong foothold, has proven to be victorious in the test of time. With an extensive product portfolio of uPVC products, SIMTA Astrix was born in 2012.
Over the years it diversified its business and secured the place of second-largest manufacturer of uPVC profiles in the country. In its 10 years journey it has now reached its production at 15,000 tons profile per annum which is now converted as the windows and doors across the globe through our channel partners. After further expansion by adding another four extrusion lines, the capacity will increase to 20,000 tons per annum.

SIMTA's production facilities are equipped with state-of-the-art German technology extruder machinery. Since the beginning of creating various uPVC products in 2012, SIMTA has been committed to manufacturing technology-driven uPVC products that are best-in-line for hassle-free fabrication.

Participation in the ZAK doors and windows Expo

SIMTA participated in the ZAK doors and windows expo in Pragati Maidan, New Delhi, from 1st December to close the year with. This 18th international trade fair was a three-day event where the SIMTA group was represented with two separate stalls - SIMTA Astrix and SIMTA Machinery showcasing specific products. A B2B exhibition with more than 300 traders and manufacturers being present. It created an ambiance where pan-India experts assembled to embrace premium quality fabrication machinery and products.

Presenting premium SIMTA products

Sampath Kumar, Managing Director of the SIMTA group, was present at the Expo to elaborate further on the range of uPVC and other premium products of SIMTA. The uPVC doors and windows offered by SIMTA are affordable and sustainable solutions that ensure a high standard of living. The uPVC products offered by SIMTA Astrix are growing in popularity due to their quality and durability. They are designed exclusively to cater to the Indian market.

He mentioned the fact about construction industry which is growing at a rapid pace. He added that the growth rate has increased by 17 per cent in the last few years. Moreover, considering diversification as part of the glide path for the coming year, a new product was also launched. It is an exclusive range of doors known as ABS doors. With this, the company confirmed that this would expand the total production capability of SIMTA Astrix by more than 50 per cent. On behalf of SIMTA Astrix, Sampath Kumar also confirmed the plan to further increase the production capacity to 18,000 TPA by adding four new extruder lines by the end of 2023.

Unleashing the potential of ABS doors

Apart from the existing products, at the ZAK doors and windows expo, SIMTA Astrix launched a range of exclusive doors known as ABS doors. With two decades of business presence and successful collaboration to embrace automation and innovative technology - SIMTA Astrix took the next step in offering yet another eco-friendly product, the ABS doors. The uniqueness of SIMTA's ABS doors lies in the fact that they are manufactured in India using Korean technology. Hence, they are designed for the Indian market regarding technologies and commercials.

Sampath Kumar mentioned the advantage of using ABS doors. He confirmed that these doors are non-toxic and light in weight. In addition, they are environment-friendly and resistant to cracks and corrosion when exposed to harsh climates or temperatures. He also revealed that the ABS doors do not absorb water, making them durable.

SIMTA Astrix is already the second-largest manufacturer of uPVC profiles in the country. However, with the launch of ABS doors, the company is expected to get a 30% market share which will eventually enable 2x growth in the next five years.

The following are the best parts about these products that make them unique and in demand.


Below are the SIMTA Astrix products that have already made a mark.


A sustainable future with SIMTA Astrix

The SIMTA group began its journey with an inspirational approach to continuously improve and move towards a sustainable future. So, innovation forms a core part of the organizational strategy with a flavor of patriotism. Hence the products manufactured by SIMTA are all eco-friendly, cost-efficient, and, most importantly, Indian-made.

Participation in this event further enhanced the visibility of SIMTA's Indian-made eco-friendly initiatives. The focus here is to keep precision and green innovation at the forefront while offering products of international quality at an affordable rate. With expertise in uPVC windows and doors manufacturing, SIMTA Astrix is about to make it grand with premium quality ABS doors this time.
For more information visit

This story is provided by BusinessWire India. ANI will not be responsible in any way for the content of this article. (ANI/ BusinessWire India)