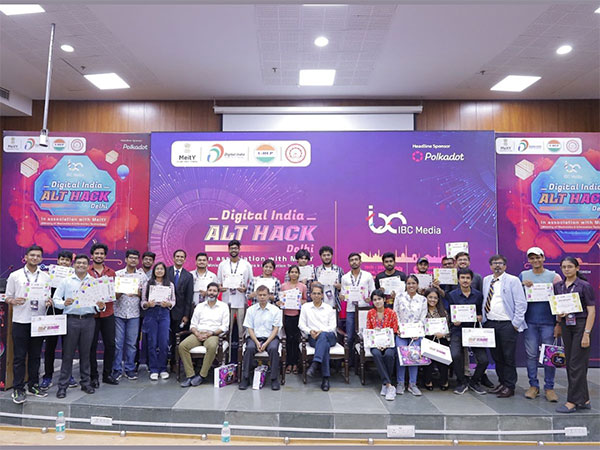 1 million developers & 1000 startups - Vision of IBC Media and MeitY (Ministry of Electronics and Information Technology Government of India) & Digital India at IIT Delhi
Jun 27, 2023
PNN
New Delhi [India], June 27: IBC Media successfully completed its 8-day onground boot camp on 19-26 June 2023 in IIT Delhi with resounding success. Through the week-long program, student developers were introduced to blockchain and Web3 technologies, education & training, ideation and intense guided building sessions. IBC Media aims to work with government, industry, and educational institutions in India and globally to upskill students in emerging technologies and make them industry ready.
IBC Media's strategic partnerships with MeitY (Ministry of Education and Information Technology), Govt of India, Digital India and IIT Delhi have agreed to take this innovation program across 8000 colleges/universities and given further impetus to its vision of building the largest talent community in emerging technologies, innovation and investments. This program is being run under the patronage of Abhishek Singh, President & CEO NeGD; MD & CEO Digital India Corporation (DIC)
Abhishek Singh, President & CEO NeGD; MD & CEO Digital India Corporation (DIC) said: "It is programs like Digital India Alt Hack that will give the much-needed boost for students to learn emerging technologies and make their mark in this domain. In the current scenario, Blockchain, Web 3 and AI are game changers and it is extremely important we equip young minds with these emerging technologies and create a valuable IP pool that will drive future innovation."


IBC Media is bringing emerging technology industry giants in web 3.0 like Polkadot ecosystem to build and recruit talent in India. Polkadot is a flagship project of Web3 Foundation and Parity Technologies which facilitates fully-functioning and user-friendly decentralized Web.
Polkadot ecosystem has 74 parachains, over 550 projects, 300 decentralized applications that will have access to recruitment in India. Polkadot has been part of this initiative since the last 3 successful programs across multiple states, creating outreach to over 30000 students. As a commitment to developing talent by Polkadot, IBC Media is running the largest talent community building program globally for Polkadot.
Gavin Wood, Chief Architect, Polkadot stated: "Emerging technologies and innovation thereof is the gamechanger. Initiatives that fuel this will be leading the change."
Urban Osvald, Developer Relations, Engagement Team Lead, Parity Technologies stated: "Polkadot has been part of IBC Media's Alt Hacks and this is a great initiative to create a topline talent pool of Web 3 student developers . As headline sponsors, Polkadot has been an active participant in IBC Media's program"
The highlight of the final day was the announcement of 3 winning teams in the 8 day Web 3 education bootcamp. The winners were awarded certificates of appreciation and student developers also received financial grants upto Rs. 40,000 per team and internships from IBC Media. IBC Media has announced 700 grants and 450 internships. Over 19,000 web companies are part of the IBC ecosystem who will be tapping into the rich talent pool of these Web 3 developers to effectively bridge the skill gap and create job opportunities and careers. Industry, Academia, and Government are aligned to create talent in India.
C P Gurnani, CEO & Managing Director, Tech Mahindra stated: "This is an excellent initiative by IBC Media. Digital India Alt Hacks are a vibrant platform for student developers to familiarize themselves with blockchain, Web 3 and emerging technologies. This education bootcamp will be the launch pad for students to start their Web 3 journey and build successful careers ahead."


Prof Sunil Jha, Director of Foundation for Smart Manufacturing, IIT Delhi expressed his views " Today, it is more imperative than ever that we align ourselves with emerging technologies as they are going to drive the future of tech education. Students especially, from any engineering discipline, need to be conversant with blockchain, Web 3, AI , IoT as these technologies are shaping our present and near future. I am thankful to IBC Media for providing students a vibrant platform to learn, train, ideate and even get a hands-on experience for building on their Web3 ideas."
Aasta Grover, Head - Startup India said, " It was interesting to be on the Women Panel at IBC Media's Digital India Alt Hack, at IIT Delhi. Inclusiveness and upskilling women in technology is a crucial aspect in these times, when emerging technologies are driving the future. IBC Media's initiatives such as this will go a long way in enabling a convergence of women developers and all student developers to learn, explore, ideate and equip themselves with the skills required to succeed"
Abhishek Pitti, Founder & CEO IBC Media said, " IBC Media is on the path of creating the largest community in emerging technologies. We have strategic associations with central government bodies like MeitY, Digital India. I thank IIT , Delhi for their support and participation in Digital India Alt Hack. We have forged partnerships with top line blockchain companies such as O2 and 5ire Chain to further our agenda and have many products in the pipeline."
The program saw an impressive VIP guest line-up which included Prof P K Jain,(Director) IIT BHU, Prof Sunil Jha (Director of Foundation for Smart Manufacturing), IIT Delhi, Prashant Mittal, Director NeGD, Digital India Corporation (DICO), MeitY, Ashutosh Kumar & Arpit Srivastava, Assistant Director (Ministry of Skill Development & Entrepreneurship), Govt of India.
IBC Media also made a series of announcements that further strengthened commitment to its vision. These include MoU with 5ire Chain (a blockchain layer-1 EVM smart contract platform) for 100 internships worth 100 K USD and Foundation Certification for students who complete their course.
WIN by IBC Media (Women in New.o) was launched at the event, a platform to build and grow a community of 1 Mn women in emerging technologies. WIN opens up opportunities for women in the tech space to upskill, collaborate, mentor and continuously create value.
Another highlight was O2 (a global exchange of carbon credits to farmers and enterprises) and PowerIQ (an AI- based solution provider to reduce environmental impact) - Two companies which were the outcome of the program, amongst the other startup ideas that have emerged from Digital India Alt Hacks.
IBC Media has announced the expansion of Alt Hacks across the globe through strategic international partnerships with UAE & Brazil. This will create a fresh wave of innovation, collaboration and a vibrant cross-cultural community of tech enthusiasts worldwide.
IBC Media's Management Team - Abhishek Pitti (Founder & CEO), Parth Pitti (Head - Developer Relations) and Praveen Thakur (COO) will drive innovation through partnerships, associations and an expanding global footprint in building the largest community in the world in emerging technologies.
Digital India Alt Hacks are the starting point of IBC Media's Internship Program which flows into IBC CEP (Continuous Education Program) where students deep-dive into Web 3.0 technologies through online sessions held by experts in the field. Student developers continue to build on their Web 3.0 ideas from the IBC Alt Hacks, progressing in their journey towards MVP (Minimum Viable Product) and become eligible for grants as part of the IBC Internship Program.
(Disclaimer: The above press release has been provided by PNN. ANI will not be responsible in any way for the content of the same)